All hands, eyes on offensive construction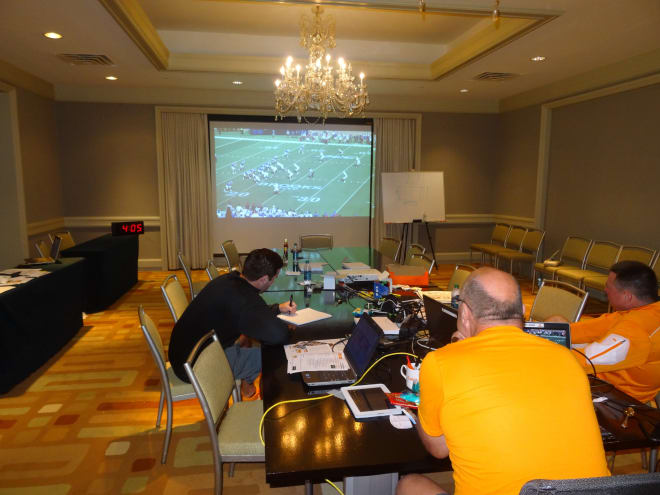 The game plan. It's become a ubiquitous football term; discussed as much as tackles and touchdowns.
Yet for all the discussion throughout the course of a football season and as each week's matchups get analyzed ad nauseam, what really was understood about the 'game plan'?
Tennessee offensive coordinator Mike DeBord, offensive assistant Nick Sheridan and head coach Butch Jones took VolQuest.com inside the creation of the Vols' game plan for their resounding, season-ending 45-6 win against Northwestern in the Outback Bowl.
Formation of the game plan begins in its infant stages with the coaches in the office watching game film of all the pertinent cut-ups and then the Vols' coaches led by DeBord have them sub-categorized.
"We want to look at first and second downs out in the open field, what we like to call the mixed downs," DeBord said. "When we're done with a cut-up, we stop and look at the set, how it was played and what is good versus those defenses, run-wise, pass-wise, play-action, screen.
"[Typical game week] Monday we do a lot of mixed downs, Tuesday also do mixed downs and start third downs, Wednesday we finish third down and do red zone," DeBord explained. "Thursday, we have a no sweat day. So on Wednesday night, we sit in as an offensive staff and go through the whole board, every call up there. We'll go through it. Take a run play, for instance, Mo (Don Mahoney) might say he doesn't like it or Robert may say for the backs, I like this. We review the entire board and scratch, eliminate. If we don't like it, it's out
"On Thursday morning, we came in and did top runs, our top 15 in a game, top 15 passes and so we make a list of top runs, top passes. After that is done and completed, we talk openers, what's the best way to start the game. On Friday we practiced openers, and we probably stuck with those about 95 percent of the time."
How the Vols started games rarely was an issue in 2015; Tennessee closed the season with a first-half scoring advantage of 269-118. The Vols also snapped on average almost seven more offensive plays per game than their opponents.
"I do think it helps quarterbacks because they kind of know what throws early in the game to expect," Sheridan said.
Added DeBord, "We would go through throw-game stuff on Thursdays, sit in there and get a feel for the likes and dislikes. If a quarterback doesn't like it, we're not going to run that play. If the quarterback says, 'I don't like this throw,' then good, it's gone. We're not married to any of them."
What DeBord has married his game-planning to is a systematic approach and a voice for his assistants. The Vols not only study in-depth those mixed downs but have a five-step third-down approach. They examine third-and-extra-long, followed by third-and-long; third-and-medium; third-and-short; third-and-must.
"Third-and-must," DeBord said of that last category, in which Tennessee improved by seven percent --- up to 46 percent --- and converted 17 more third downs last season.
The Vols then unfurled multiple new sets against Northwestern in the bowl game, whether it was new motions from the tight end or some I-back sets that got Jalen Hurd and even Alvin Kamara rolling downhill.
It was the culmination of Year 1 for DeBord, but the Vols were not by any means finished with their development.
"I will say this: I've been around a lot of ways of game-planning, been around through my experience with coordinators who may do the majority of planning by themselves, and I've been around other situations where the entire staff is involved in game planning," DeBord said. "In my coordinating here and at Michigan, well I started my first meeting here with this is Tennessee's offense. Not my offense; our offense. I want every person involved. I have to make final decisions, but I want to hear something from everybody all the time. Our room was as great as a room this year as I've ever been a part of. It doesn't mean other rooms were bad, but the entire staff did a great job assisting in game planning. We talk all the time throughout a game about runs and passes.
"They have done just a great job of assisting me through the week and then on gameday. I believe this, we've got however many guys, that many sets of eyes, brains, every day I'll hear something and say that's a great thought. I like that."
All part of the (game) plan.