Barnes looking for effort vs. No. 18 Gamecocks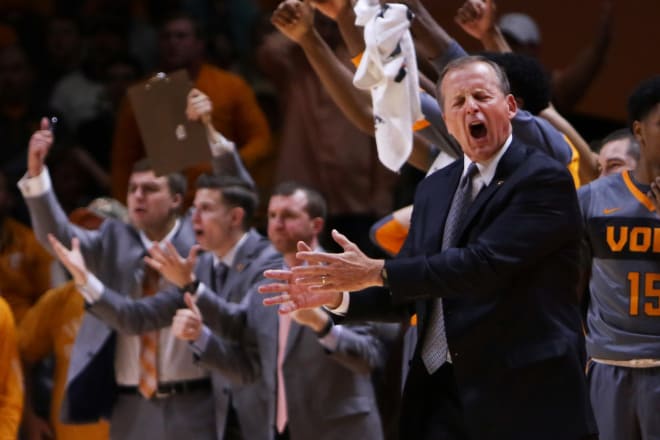 Days after what might have been its worst outing of the season in a loss to Vanderbilt, Tennessee (9-9, 2-4) gets a crack at redemption, hosting No. 18 South Carolina (17-1, 4-1) on Saturday afternoon (12 p.m., SEC Network). The Vols will be looking to stay out of the SEC cellar while the Gamecocks are fighting to stay in early contention for the league title.
If Tennessee is going to hang with South Carolina today it will need a considerably stepped-up performance from the disappointing effort they threw out against the Commodores.
Rick Barnes' team has taken some lumps this season, but rarely has playing hard and being competitive been a problem. That didn't appear to be the case against Vanderbilt, in a game the 'Dores led wire-to-wire, and two days later Barnes was still fuming over it.
Barnes understands that he inherited a roster with some built-in challenges, but one thing the head coach won't tolerate is sub-par effort, which is what he felt he got from his squad in Wednesday's loss.
"If we have the kind of effort we had the other night, we're going to be in for a lot of long nights. That's what I think. Effort is something you don't ever take for granted. If you do you see what happens, the other night happens," Barnes said. "We didn't play hard enough, well enough, weren't into it mentally enough to win any basketball game and we saw the result.
"I told the guys that if we have that kind of effort we won't win any more games this year. We'll see (how we respond), but you're only as good as your last one and we have a chance to come out and be a lot better than we were against Vandy."
The Vols will need to turn things around in a hurry before taking on a South Carolina team that has taken a definitive step forward this year in head coach Frank Martin's fourth season at the helm of the program.
Though the Gamecocks didn't play the stiffest non-conference schedule, they did negotiate it without a loss and have only dropped one game in SEC play, falling 73-50 at Alabama.
Barnes is familiar with Frank Martin and his methods from Martin's time at Kansas State. The two met seven times as Big 12 competitors while Barnes was at Texas with Martin owning a slim 4-3 edge in the series.
Looking at this South Carolina team, he sees some familiar themes from his previous match-ups with Martin.
"I love Frank. I love his style of basketball, very aggressive. He believes in hard-nosed, aggressive man-to-man. They'll mix in some zone at times, a little bit of match-up too. They'll go what we call 'hot' on the base-line to try and get a big guy on the ball and really try to deny you getting the ball inbounds," Barnes said of Martin and his philosophy.
"They're a very aggressive team. They want to turn you over, there's no question about that. I think they're a very disciplined team. He did a great job at Kansas State and it was just a matter of time before he started doing what they're doing at South Carolina now."
Not surprisingly, South Carolina will present some challenges in this match-up. One of the most glaring will be how a perimeter-oriented Tennessee team is able to manufacture points against what's been one of the stingiest defensive teams in the league to this point.
The Gamecocks are allowing foes to make just 38.6% of their shots on the season, third best in the SEC.
Tennessee is coming off an ugly offensive outing against Vandy where they shot just 32% from the floor and a mere 4-of-20 from three-point range. For a squad with so little production in the post, that kind of shooting game is a recipe for disaster, and that's how things played out against the Commodores.
Solving what's been a gritty Gamecock defense will be a priority on Saturday but it may take a backseat to figuring out some way to keep from getting overwhelmed on the boards.
South Carolina isn't the biggest team in the league, but the Gamecocks are long at just about every position, starting no one shorter than 6-foot-5 while Tennessee starts no one taller than that.
Michael Carrera (6-foot-6) leads the team with 6.6 boards per game, but everyone contributes, with four different starters averaging at least 4.8 rpg.
We're all familiar with Tennessee's shortcomings in the post, highlighted by an extreme lack of size.
"We didn't do a very good job at all of getting on the glass, really at all against Vandy. There were numerous possessions where the ball was shot and guys just stood around, didn't even make an effort to go get the ball. That was some of it. But really, any coach looking at our team is going to say, 'there's no way this team should out rebound us.'
Barnes added that being so solid on the glass goes hand-in-hand with the Gamecocks' defensive proficiency this season.
"That goes back to their defense. You can't be a good defensive team if you don't finish possessions by rebounding the ball. Anybody that teaches defense as hard as Frank does is going to talk about finishing possessions with rebounding," he said.
That lack of size has been even more of an issue with Barnes' decision earlier this month to roll the dice with a smaller starting line-up in an effort to get his best five players on the floor. Unfortunately for the head coach, no one in that group of five measures taller than 6-foot-5.
During the first three SEC games, Tennessee held its own on the glass with that smaller group, owning a +7.3 rebounding margin. That's changed dramatically in the last three contests starting with the loss at Georgia.
Recently teams have not just been taking advantage of the Vols on the glass, but hammering them. In the last three games Tennessee is a -10.3 per game in rebounding margin, which simply put is a number that you're not going to overcome very often without absolutely shooting the lights out.
South Carolina is more than well-positioned to continue the trend of abusing Tennessee on the boards. The Gamecocks have been the best rebounding team in the SEC to this point in the season, owning an impressive +9.7 rebounding margin.
One of the keys to that huge number is the job the Gamecocks have done on the offensive glass. The Gamecocks are pulling down an average of 14.1 offensive boards per game, an impressive stat that leads to a lot of extra possessions.
They're perhaps even more proficient on the other end of the floor where they allow fewer offensive rebounds than anyone in the SEC, collecting 73% of their opponents missed shots.
The Vols will have to put a dint in those numbers if they're going to pull the upset on Saturday.
TAKING THE NEXT STEP
Perhaps the most pleasant surprise in the first two weeks of conference play for the Vols was the steady production provided by Derrick Mostella off the bench.
The sophomore has been largely up-and-down during his career, but when he started SEC play by averaging 13.2 points in the Vols' first five games, it looked like he may have turned the corner towards becoming a consistent and reliable contributor.
That perception took a hit against Vanderbilt, when fresh off a career-high 24 points at Mississippi State, Mostella struggled to post eight points on 2-of-13 shooting, including 1-of-7 from three-point range.
Barnes was obviously not happy with that drop off, but the veteran head coach almost seemed to expect it as Mostella struggles to take that step in his development, going from someone whose contributions are a bonus to becoming someone from whom it's expected every time out.
"I've told him that I don't know if he's at level maturity-wise where you can count on him every single night," Barnes said on the topic of Mostella's development.
"He had a couple of good games and then fell back. He came out the other night (against Vandy) and I thought just totally got out of his role. Every time the ball hit his hand he tried to do something with it; took a bad shot, turned the ball over, traveled."
MOORE ON THE MEND
Senior Armani Moore was back in the line-up on Wednesday after missing one game with a sprained ankle.
Barnes noted that health-wise, Moore showed no ill effects from returning to action and he practiced without any issues on Thursday and Friday.
Barnes was pleased to get Moore back on the floor, but he wasn't shy in noting that he'd like to see the senior play a smarter, more team-oriented game.
Moore has struggled mightily on the offensive end since conference play began. He averaged 15.0 ppg in 12 non-league games, but in five SEC contests he's putting up just 6.4 ppg while shooting 27% from the floor and an even more head-scratching 57% at the free-throw line.
Moore still leads the Vols in rebounding (7.6 rpg), assists (4.6) and blocks (9) and remains a hugely valuable piece of the puzzle, but he's having trouble finding the basket.
"I think he was fine with that (ankle). Watching tape from Vandy I thought he just tried to do too much offensively early on," Barnes said of Moore's status and his play. "We went three (straight) possessions where he missed two free throws, missed a lay-up and took a (missed) three. We can't go three straight possessions where the ball stops when it gets to him. He'll respond, he has all year.
"I think he's really pressing a little bit now simply because he hasn't played as well as he wants to. He's been around, he's been through it and he'll bounce back."
Barnes doesn't expect Moore to be a 20+ point scorer, but he is anxious for the senior to start displaying some better judgement on the floor and simply not try do so much on the offensive end.
"You want to convince him that he doesn't have to do anything except be himself out there, Barnes said of his message to his senior leader. "He's at his best when he's really locked in on defense, really moving the ball and letting everything come to him offensively. When he starts trying to do too much on the offensive end is when I think he starts getting down on himself."
GUARDING THE GAMECOCKS
Tennessee has had trouble slowing most anyone down this season in SEC play, giving up right at 81 points per contests. That may not bode well against a South Carolina squad that isn't afraid to push tempo and comes in averaging 78.4 ppg.
The Gamecocks have an ultra balanced attack with four starters averaging double digits, led by junior guard Sindairus Thornwell (12.1 ppg). The only guy not averaging double digits is freshman PJ Dozier (7.5 ppg), and the former five-star recruit may be the most talented player on the roster.
The 'Cocks aren't a great shooting team by any means (44.2% FG%, 34.3% 3-pt.%), ranking in the middle of the pack in the SEC. But they create so many extra possessions off of offensive rebounds and steals (7.2 per game) that it all adds up.