Fitzgerald, Jones share roots, friendship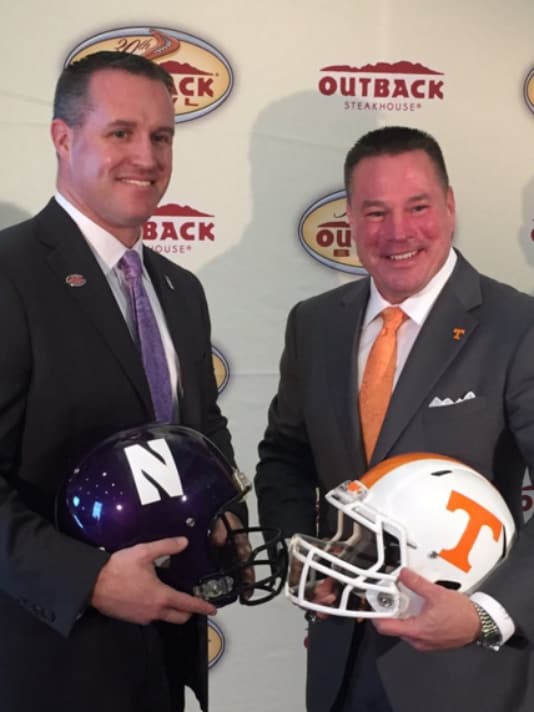 TAMPA, Fla. --- Pat Fitzgerald and Butch Jones trace roots to opposite sides of Lake Michigan, separated by some 140 miles of Interstate but barely 80 miles as the boat sails.
They have known each other, by each coach's recollection, better than 15 years and longer than either coach has helmed his own program.
Now with a combined 239 games as Football Bowls Subdivision head coaches and each with 70 wins, the longtime friends meet Friday here in Tampa for the 30th annual Outback Bowl as Fitzgerald's Northwestern Wildcats confront Jones' Tennessee Vols (12 p.m., ESPN2).
"We met a long time ago when he was a grad assistant at Northwestern and I had a buddy who was a grad assistant at Northwestern," Jones told Rivals.com. "That's going back more than 15 years ago. Met at Northwestern.
"Have a lot of respect for Pat; he's a friend."
A native of Orland Park, Ill., who engineered a Hall of Fame playing career at Northwestern, Fitzgerald points to the duo's shared regional roots.
"Well, first of all, he's a Midwest guy and so am I. Him being from Saugatuck and right around the corner from us," Fitzgerald said. "Obviously his time at Central (Michigan) and Cincy. A lot of mutual relationships on our staff. And been a big fan of his from afar.
"So when we talked about kind of clinic-ing with some staffs in the offseason, Tennessee was one of those that we wanted to get with. Really, it started kind of at Cincinnati and continued on to Tennessee."
The Vols' and Wildcats' staffs are certainly not strangers; in fact, Fitzgerald explained, they held the joint brain-storming sessions all while hoping this exact scenario wouldn't unfold. They would have met on the field five years ago while Jones was at Central Michigan, a game Fitzgerald's Wildcats won 30-25, but Jones had departed for the head post at Cincinnati prior to that season.
"From my perspective, it's knowing he does things the right way and just respect for the way his teams have always played," Fitzgerald said. "And he's just done a phenomenal job. Started there for me and just talking to our staff, when you start talking about who do you want to clinic with, it's changed a little bit. You've got to be very careful with who you sit down and share things with. When you do that, you expect it to be trusted and stay.
"Then you hope you don't play each other and now we do. The good news is we both know about each other. It's a push that way."
Added Jones, "It still comes down to execution. Our systems are different, but there are some similarities. And in our profession, it is, it's who you trust. Who you like some of the things that they do schematically. A lot of times you use motivational and offseason plans. Just have a tremendous amount of respect for Pat and his staff."
Both coaches discuss a mutual respect. While the former linebacker Fitzgerald became a full-time assistant coach at his alma mater after single seasons at Maryland, Colorado and Idaho, he ascended to the Wildcats' head coach after five years as understudy to Randy Walker.
By his third season, Fitzgerald was launching a program-best run of five consecutive bowl berths. As player and coach, Fitzgerald has touched three of Northwestern's four 10-win seasons including this year's 10-2 ledger.
"I think it's just the respect for their football program, what he's been able to do," Jones said. "The sustained success. The consistency in their program. The mentality, everything that they stand for.
"You look at tempo, physicality with their football program. Fundamentals. Details. There's a lot [to like]."
Not surprisingly, Fitzgerald touted Jones' job recruiting and rebuilding Tennessee's roster. Jones toiled nine years as an FBS assistant coach at Central Michigan and West Virginia before he landed his first head job at CMU in 2007.
"Thankful for his friendship; got a ton of respect for the job he does. He does it the right way," Fitzgerald said. "Starting obviously with the way he runs his program recruiting. You watch the way the young men play. They're doing a great job. Thankful for their friendship.
"You know, we know the challenge. I think the only person that's picked us to win is my 6-year-old son (Brendan), so it's going to be a challenge. Just thankful for his friendship."