For Barnes and Schwartz there was no hesitation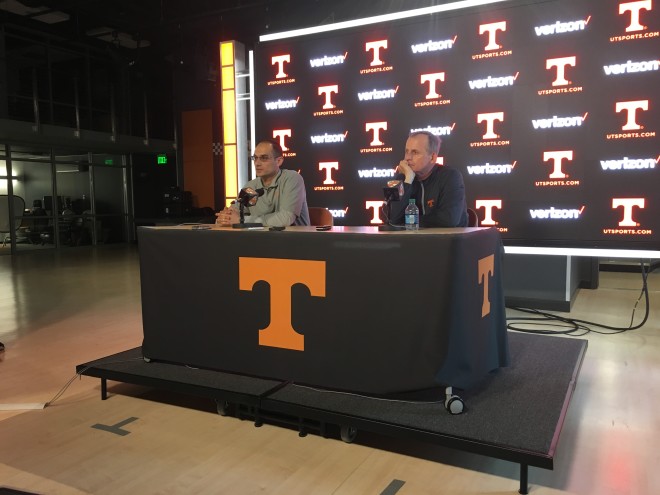 Tennessee head coach Rick Barnes had his staff vacancy field before the departure of Chris Ogden became official. Barnes' search to hire former Texas walk-on and graduate assistant Michael Schwartz involved one question.
"Can we hire Mike?," Barnes recalled of his search on Thursday as he officially introduced Schwartz.
Schwartz's response was to Barnes' single question was quick and easy.
"It's been a dream of mine to have the opportunity to be back with coach Barnes," Schwartz said. "I have thought about it my whole career and always wished I had the opportunity. I feel blessed and fortunately to have the chance to be here and be with this staff.
"There was no heistation. The minute I found out that there was even a chance, again I have always thought about this. Every year I have thought and even hoped that I would have a chance to be back with coach Barnes. I owe everything to him. My career. The chance to play. The chance to be in a division one program. The chance to be coached at that level and to experience that to move into coaching. When this possibility was an inkling it didn't much as soon as it happened I was really excited and wanted to go for it."
For Barnes, hiring a former player and a former graduate assistant wasn't about making an easy choice. It's was about improving and hiring the right fit.
"Just like when you are out recruiting you want to make yourself better. Not too many times have I hired someone that I didn't know someway, somehow. I watched him grow. He's one of the most loyal guys I have been around. In some ways, I always felt like if the chance would be there that he would be the guy. When we knew Chris was leaving it was done.
"What was important to me is that my three assistant coaches really have great respect for each other. I wanted what we have all been and that's a grinder, someone that is going to find a way. We are a confident staff. We think we have a great University here. So many great things we can go out and present to recruits. The fact is I wanted the comfort level of knowing that the person coming here would be a person that would get up every day loving this program as I love it and caring about it as much as I care about it. Wanting to see it succeed. We have always had that. Mike just adds to that and takes it to another level. Really there was only one guy."
The guy Barnes formally introduced on Thursday.